Vibration Tester AVD-80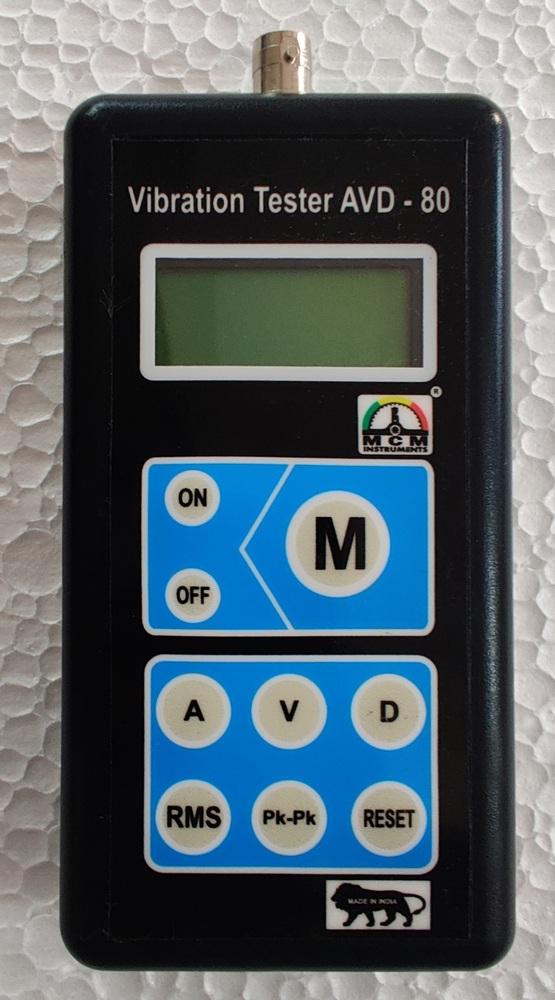 Vibration Tester AVD-80
Product Description
Vibration Tester AVD-80
Vibration Tester AVD -80 Micro Controller Based has been designed as simple diagnostic tool for preventive maintenance. The instrument and the monitoring technique are based on the recommendations of ISO standard. Need based maintenance is the latest trend of industry with which maintenance costs are low and life machinery is most optimum. Condition monitoring is basic need for need maintenance.
All three useful measurements are possible. Suitable for monitoring machinery vibration caused by imbalance, misalignment and gear faults. Displacement, Velocity and acceleration modes allow a user to perform basic vibration analysis

Features
Measuring Vibration: Displacement , Acceleration and Velocity

True RMS measurement &Peak-Peak

Sealed Membrane key pad

Micro Controller based

Back Light Display

Auto Off

Battery Low Indication

Pocket size and Light weight

Technical Data :
Displacement Measuring Range:0.5 -1000 m True RMS, 0.5 - 2828 PK - PK

Accuracy:(+ 5%)

Velocity Measuring Range: 0.1 - 200 mm/sec, 0.1 - 565 mm/s PK - PKTrue RMS

Accuracy:+ (2% + 0.1 mm/s)

Acceleration Measuring Range:0.1 - 200 m/sec, 0.1 - 565 m/sPK - PKTrue RMS

Accuracy: (2% + 0.1 m/s)

Resolution:0.1 mm/s

Accuracy: + (2% + 0.1 mm/s)

Frequency response : 10HZ - 1KHZ

Temperature Range : 0 - 55 degree C

Power Supply: 9V - 6 F22

Display:2 x 8 Dot Matrix LCD Large Characters with back light

Auto Off:Yes

Battery Low Indication:Yes

Weight : 200gms

Size : 135x70x25mm

Standard Supply :
1) Vibration Tester AVD-80 with Pouch,

2) Vibration Transducer (Accelerometer) VSF-1F, Magnetic Base,Hand Held Probe Rod, Low Noise Cable with Connectors (1.5 Mtrs)

3) Manual,

4) 9V Battery (Alkaline),

5) Test & Calibration Report with Warranty/Guarantee Certificate

6) Carry Case.