Electronic Stethoscope ES-801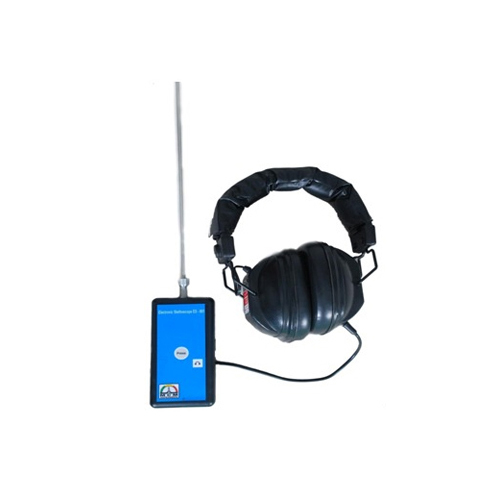 Electronic Stethoscope ES-801
Product Description
Electronic Stethoscope ES-801

With rich industry experience and knowledge, we are involved in offering our clients an excellent array of Electronic Stethoscope. The offered gauge is used in various industries for detecting location of machinery noise easily in industrial environment for maintenance purposes. Further, it is manufactured using premium quality raw material which is directly sourced from reliable vendors, which ensure their reliability and quality. We offer this Electronic Stethoscope in various specifications to meet varied requirements of clients.
Features:
Accurate detection
Robustness
Durability
Excellent functionality
Specifications :
The need to eavesdrop on mechanical sounds within machinery is essential in any maintenance department. Mechanical faults can often be heard. The problem is to locate the sound source quickly and accurately in a generally noisy environment.
The electronic stethoscope is a sensitive listening stick, for location of all kinds of machinery noise. Valve chatter, tappet noise, piston slap, gear and pump noise and the operation of relays and solenoids are just a few of the many noises that may be traced, amplified and assessed with this device.
To install the battery: Open the cover from battery compartment. Install a 9V battery (Alkaline) and replace the cover. A battery should last for about 27 hours of normal operation.
Store the stethoscope at normal room temperature. Remove the battery before storing the instrument for a long period of time. Battery leakage can destroy it.
The probe tip should be attached by hand. Do not use tools.
Technical Data:
Frequency Range: 5Hz to 10KHZ
Output Volume: Two Levels (High & Low)
Power on Indicator: Yes
Battery Low Indication: Yes
Head Set: 200
Switching off: Auto / Manual
Battery: 9V Alkaline
Battery Life: 27 hr continuous use
Dimensions of Head phone: 220 x 130 x 100mm
Probe tip length: 300mm
Weight: 250gms
Standard Accessories :
Probe Tip 220 mm
Head Phone
9V Alkaline Battery
Instruction Sheet
Carry Case
Test & Calibration Report with Guarantee / Warranty Certificate.